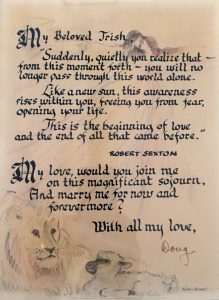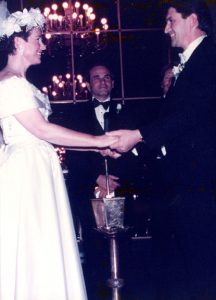 My husband, Doug, and I are so blessed to be celebrating our 25th Wedding Anniversary on March 21, 2017!!!!  What an amazing and wondrous journey, inspired by Spirit from the very beginning.
People always ask us what the secret is to having a loving and close relationship for so many years.  Well, the first and foremost consideration is that we based our love on always following our hearts and Spirit as both of us have been on a deeply spiritual journey for more than 36 to 40 years.  At our wedding, we let go of all that was holding us back from our highest radiance and sixteen months later experienced the profound calling to jump off the cliff, leave our professional lives behind, and move to Hawaii to work with the wild dolphins and whales.
Now, so  many years later, we can absolutely embrace the magic of universal and soul guidance to witness the years and years of amazing, enthralling, exciting, joyous and deep experiences we have been gifted with over all this time!
And here are more reasons that we are even more in love now than in the beginning (as Doug always says …. we are rising in love, not falling in love!):   Here is what I am so grateful for ……..
—Our amazing four children, their spouses and seven grandchildren … all beautiful, loving souls … we are so so blessed.
—Our wonderful siblings on both sides, and extensive family.
—Our very special, supportive, loving and fun friends.
—When Doug would hold me in his arms and rock me for hours as I cried in the beginning of our relationship because I was so afraid of being hurt yet again ….
—How we meditate together every day to channel love, Light and compassion to the world and out into the multiverse.
—When we never forget to thank each other for the small things like doing the dishes, taking out the garbage, etc.
—The way that Doug supports my complete radiance and expressing my goddess Light … no competition or power plays in the negative masculine (and I do the same for him).
—The way Doug is so grounded and lives in total and complete Trust of the universe … always and from the beginning … he has been my rock, the bowl holding space for me to blossom and eliminate my fears.
—How we laugh all day long.
—The way he flirts with me all day long.
—When we were told in the beginning of our work together, when the way we work is so radically different, that we should just get a divorce because neither of us could or would change ….. and we both laughed and felt we would never divorce because we love each other too much!!  We learned to work it out.
—Doug's philosophy ….. "happy wife, happy life!" …. yes!
—The way we support each other through it all in all ways and all days.
—The way we work it out when our shadow selves emerge.
—The dolphins and whales for enriching and transforming our lives in so many, many ways.
—How we have only one absolute boundary of sexual fidelity … but encourage and support complete freedom to be ourselves and follow our passions, whatever they may be, knowing that we will always honor each other completely.
—How, when we are touching body to body, skin to skin, heart to heart and soul to soul, we cannot feel the separation or boundary between us … we are in the Centerpoint, the oneness … the bliss.  And that is why we always hold hands … it keeps us in that state of joy and bliss.
—How Doug always tells me I am gorgeous even when I look my worst (you know those times)!
OK, yes, I could go on and on … there is so much.  All in all, it has been the most beautiful, loving, fun, amazing, joyous journey.  We have gone through all the hard stuff and have moved toward the center of our issues that began at the polar opposites years ago.  In our dedication to our marriage and sacred work together, we did the hard work, took responsibility when it was ours, and now just have fun!!  In those times when the old patterns re-emerge, we have learned to move out of the negativity and into the love pretty fast.  We are blessed and so in love.  We are so grateful to all our family and friends who have supported our love and marriage over the years.  Thank you, thank you, thank you.